Clean air solution for Wollongong Hospital.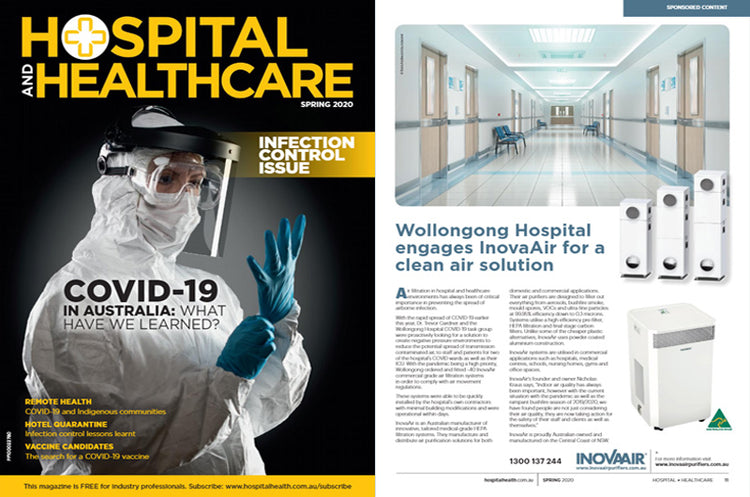 Air filtration in hospital and healthcare environments has always been of critical importance in preventing the spread of airborne infection.

With the rapid spread of COVID-19 in 2021, Dr. Trevor Gardner and the Wollongong Hospital COVID-19 task group were proactively looking for a solution to create negative pressure environments to reduce the potential spread of transmission contaminated air, to staff and patients for two of the hospital's COVID wards as well as their ICU. With the pandemic being a high priority, Wollongong ordered and fitted 40 INOVA commercial grade air filtration systems in order to comply with air movement regulations.

INOVA is an Australian manufacturer of innovative, tailored medical-grade HEPA filtration systems. They manufacture and distribute air purification solutions for both domestic and commercial applications. Their air purifiers are designed to filter out everything from aerosols, bushfire smoke, mould spores, VOCs and ultra-fine particles at 99.95% efficiency down to 0.3 microns.
Systems utilise a high-efficiency pre-filter, HEPA filtration and final stage carbon filters. Unlike some of the cheaper plastic alternatives, INOVA uses powder coated aluminium construction.

INOVA's founder and owner Nicholas Kraus says, "Indoor air quality has always been important, however with the current situation with the pandemic as well as the rampant bushfire season of 2019/2020, we have found people are now taking action for the safety of their staff and clients as well as themselves."

INOVA is proudly Australian owned and manufactured on the Central Coast of NSW.
As seen in Hospital + Healthcare magazine (Spring 2020 edition)
INOVA Air Purifier Models