Collection:
Robust air purification for schools and education facilities
4 products
Find the best protection on the market for students and educators
INOVA V Series air purifiers are the leading air purification system for schools and education facilities across Australia.

With cutting-edge technology that's specifically designed to protect students, teachers and staff from aerosol-based viral and bacterial contaminants, an INOVA air purifier provides round-the-clock protection in vulnerable school environments. 
Advanced technology for education environments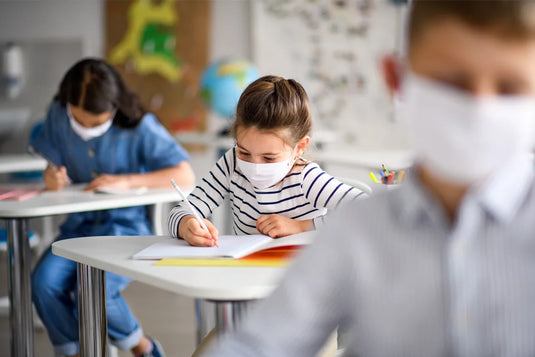 With so many students and teachers crossing paths in the classroom, it's no wonder they can be breeding grounds for disease, infection and illness. That's why our air purifiers use the most advanced technology on the market to provide robust and necessary protection from the risk of harmful airborne particles.
With a medical-grade efficiency of 99.97% at 0.3 microns, you won't find an air purifier that can provide better protection to your school and education facilities.
Improved learning outcomes through improved air quality
What's the relationship between student learning outcomes and improved air quality? 
When students and educators are protected, they're less likely to take time off due to sickness. Higher quality of air can also reduce the risk of fatigue, as well as protect students from airborne contaminants they may unknowingly be sitting next to.
INOVA air purifiers work hard to dramatically improve the quality of indoor air and promote a healthier educational environment. With plastic-free and chemical-free aluminium powder-coated construction, it's easier than ever to keep your school environment free of dirt and risky contaminants.
Customisable filters for every environment
Your school or education facility may face unique challenges to air quality that are location-dependent. With an INOVA air purifier, you can custom-build the perfect filter system to protect your staff and students from location-specific air contaminants.
Whether you're looking to protect and strengthen air quality in classrooms or libraries, or require wall-mounted purifiers for gyms and common rooms, our range of air purifiers has one that's fit for your purposes. Interchangeable filters allow for strategic targeting of local contaminants, such as high-capacity dust, allergen and chemical removal.
The protection your community needs
Students, teachers and staff spend a large amount of their time together. By investing in an INOVA air purifier, you're providing them with the healthiest and safest air quality possible, promoting productivity and wellbeing in the process.
We've designed our air purifiers to last. Maintenance and servicing options means your investment will continue to provide returns for years to come, making a significant difference to the health of your community.