Understanding the Link Between Mould and Asthma.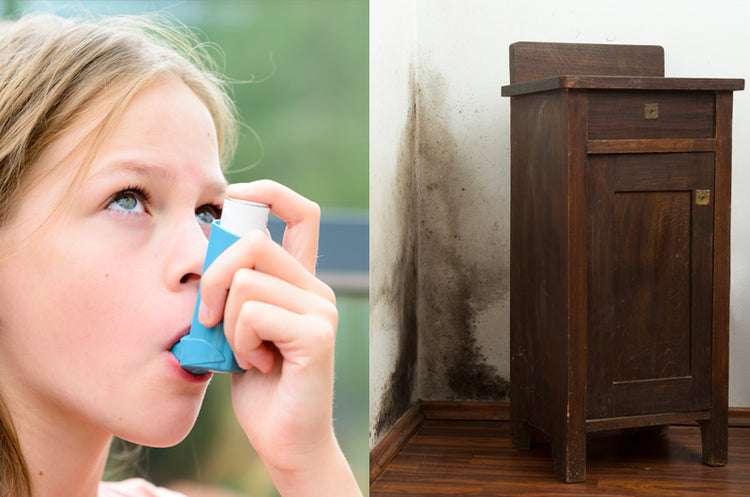 One in every nine Australians has asthma – that's around 2.7 million people experiencing breathing difficulties, who are at risk of having an attack that could have devastating consequences. 
Many people don't understand the link between air quality in the home; and mould, in particular, and how an air purifier can help reduce the likelihood of an asthma attack, saving Australian families from thousands of dollars in medical expenses and potentially devastating consequences. 
The estimated cost per asthma sufferer in Australia in 2015 was $11,740, according to Asthma Australia – this includes disability, health care costs, loss of productivity, loss in wages, income support for carers of people with asthma, and premature death, the cost of which is course, immeasurable. 
There were 38,792 hospitalisations due to asthma in 2017-18, and 44% of those hospitalised were children aged under 14. There were 441 asthma-related deaths in 2016. 
Air pollution is a major contributor to asthma-related hospitalisations and mortalities, according to Debra Kay, Chief Executive Officer of Asthma Australia.
Mould, pollen and smoke contribute to adverse air quality in the home and increase the likelihood of asthma. 
What we have found in our sixteen years of supplying air purifiers to households all over Australia is that most people don't understand that damp conditions and mould in the home can contribute airborne mould, which can trigger asthma symptoms, as mould produces millions of airborne spores that are easily inhaled.
Between one quarter to one-third of the respiratory health outcomes observed in New Zealand can be explained by indoor dampness, attributable to cold, draughty and poorly established buildings, it would be reasonable to assume that this statistic would be similar in Australia too. 
According to Nicole Bijlsma, building biologist and founder of the Australian College of Environmental Studies, water-damaged buildings contain a 'chemical stew' of airborne bioaerosols and by-products, which attract house dust mites and pests like cockroaches, rodents and termites, all of which may contribute to adverse health effects.  
Mould doesn't need to be seen to be present, and it is as much a problem in new buildings as it is in older homes, as they are built with energy efficiency in mind, with lack of adequate ventilation that can lead to mould growth. 
Prevention of moisture in the home and eliminating the source is key – adequate ventilation, ensuring any water damage is cleaned up within 24-48 hours, and allowing for lots of natural sunlight. 
If mould or any other factors impacting air quality in your home are triggering asthma symptoms for someone in your household, our air purifiers can make a significant difference. All of our air purifiers include a medical-grade HEPA filter which removes 99.97% of airborne particles @ 0.3 microns efficiency, including mould spores and dust, from the air – dust is food for mould, so it's very important to extract this from the air too.
Our reviews including many accounts of actual user experiences with INOVA air purifiers and their effectiveness is reducing airborne mould. 
Click here to see INOVA Air Purifiers designed for mould.

Article references
Asthma Australia – www.asthma.org.au

Senate Inquiry: The impacts of health on Air Quality in Australia – submission by Asthma Australia, 8 March 2013
Asthma Australia: How flooding and mould can impact people with Asthma
p65, Healthy Home, Healthy Family by Nicole Bijlsma – Founder of the Australian College of Environmental Studies 
INOVA Air Purifier Models