Air Hygiene and Staying Safe Indoors.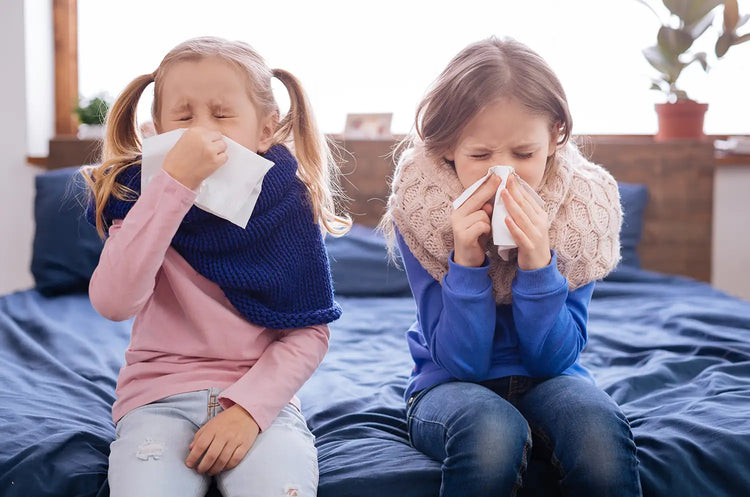 What You Need to Know About Air Purifiers
Airborne Transmission of the Coronavirus (COVID-19)
July 9th, the World Health Organization (WHO) acknowledged that COVID-19 can spread through the air as ultra-fine particles in light of research from hundreds of scientists across the globe. There is now enough scientific evidence from studies to demonstrate airborne transmission occurs.
One of these studies was conducted by Chinese scientists of a poorly ventilated restaurant. There were 3 parties eating in a restaurant, 1 of which was infected with the virus. Later, 10 of the individuals tested positive for COVID-19. There was no direct contact between the groups, so how did they get sick? The virus was shown to have circulated through the ventilation system within the area of the 3 families in a simulation performed by the scientists, thus providing proof of airborne transmission.
Aerosol transmission of SARS-CoV-2 by Min Kang of the Guangdong Provincial Center for Disease Control and Prevention in Guangzhou, Guangdong, P.R.China9
In early March, a choir group in Washington state in the United States, 60 people attended a rehearsal. No one was feeling ill, hand sanitizer was provided, social distancing practised, and the area was not classified as a hotspot. Within 3 weeks, 45 were diagnosed with COVID-19 and 2 died. In this particular case, airborne transmission of COVID-19 was suspected as the main cause of infection.
What Needs to be Done to Improve Indoor Air Safety
The Centers for Disease Control and Prevention has released guidelines on how often the air inside a building must be changed to keep clean air flowing throughout. CDC specifies that 6 air changes should occur every hour. Currently, the average commercial building performs 1-2 per hour and benefit could be gained with an increase or with the addition of air filtration. According to David Krause, a certified industrial hygienist and owner of HealthCare Consulting and Contracting, an air change can be performed in 1 of 2 ways: "through the gross change-out of air, bringing in outside air and exhausting air from the room. Or you can achieve it by using high-efficiency filters that effectively remove virus-containing particles from the air."1
Can an Air Purifier Or High-Efficiency Filter Remove COVID-19?
Yes. The American Society of Heating, Refrigerating and Air-Conditioning Engineers (ASHRAE) stated that a filter of MERV 13 or higher is needed to effectively capture COVID-19. "Filters can capture virus-laden particles through a number of methods, including physically trapping them with a fine enough filter."1 The MERV rating scale is a US standard, in Australia, we go by European standards. Below is a chart comparing the two:
| | | |
| --- | --- | --- |
| Filter Class (EN 1822) | Filter Class (ISO 29463) | Overall Efficiency (%) |
| E11 | ISO 15 E | ≥ 95 |
| E12 | ISO 25 E | ≥ 99.5 |
| H13 | ISO 35 H | ≥ 99.95 |
| H14 | ISO 45 H | ≥ 99.995 |
| U15 | ISO 55 U | ≥ 99.9995 |
| U16 | ISO 65 U | ≥ 99.99995 |
| U17 | ISO 75 U | ≥ 99.999995 |
At InovaAir Australia, we only utilise medical-grade H13 HEPA filters in all of our air purifiers.
Regardless of whether or not an air purifier or air filter is used in your indoor space, standard safety procedures should still be performed, and masks should be worn when in public areas or indoors where there is poor ventilation and or social distancing cannot be maintained.  For additional protection, hand sanitising and surface disinfection should be regularly practised.
At InovaAir we are supplying many commercial and government business', including medical, dental and hospitals with air purifiers to assist in filtering the air with medical-grade HEPA filters. Pictured below are our systems at Francis Family Doctors who are being proactive in taking steps to practice good air hygiene by filtering the air with Australian made medical-grade InovaAir HEPA air purifiers.
If you are a medical professional and looking to filter the air, please contact us 1300 137 244 for an assessment of your indoor space and requirements.
Recommendations for More Information
To learn more about the aerosol spread of the virus please read our blog about new evidence that supports the theory of the airbourne spread of COVID 19
To learn more about how HEPA filters work, please read our blog on the myths and facts about HEPA filters in Air Purifiers.
If you are in need of a medical-grade air purifier for small spaces we recommend the AirClean E8 Air Purifier.
For higher capacity applications, please check out the AirClean E20 or AirClean DE20 Air purifiers
References
1 https://fivethirtyeight.com/features/how-to-make-indoor-air-safer/?utm_source=pocket&utm_medium=email&utm_campaign=pockethits
2 https://forensicanalytical.com/wp-content/uploads/2018/06/David-Krause.pdf
4 https://www.cdc.gov/infectioncontrol/pdf/guidelines/environmental-guidelines-P.pdf
5 https://youtu.be/xJ4Epf8i1uk
6 https://doctormikehansen.com
7 https://www.youtube.com/c/DoctorMikeHansen/featured
8 https://www.youtube.com/watch?v=xJ4Epf8i1uk
9 https://doi.org/10.1101/2020.04.16.20067728
10 https://www.latimes.com/world-nation/story/2020-03-29/coronavirus-choir-outbreak
INOVA Air Purifier Models