5 ways to protect yourself from bushfire smoke inhalation in your home.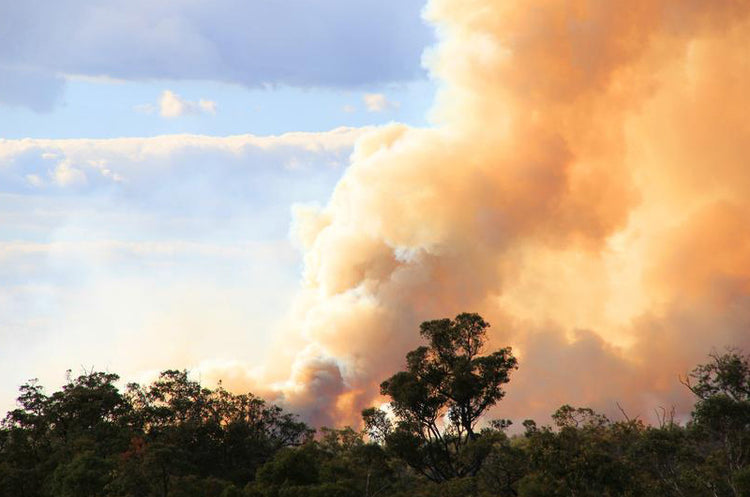 With Australia in the midst of an unprecedented bushfire emergency and so many towns and cities engulfed in smoke, it's important to prevent smoke from entering your home, and ensure you are equipped to filter it out of the air if it does infiltrate your home unexpectedly.

The problem with smoke inhalation is that it can cause serious breathing problems, as well as itchy eyes, sore throat, runny nose.

Children, the elderly, and people with heart and lung conditions are particularly sensitive to the effects of smoke inhalation.

Smoke inhalation can also trigger issues for people who might not be aware they're sensitive, according to climate and population health expert Dr Liz Hanna. Long-term exposure can cause lifelong problems with breathing, and greater susceptibility to coughs, colds and shortness of breath.
Thankfully, it's really easy to keep bushfire smoke out of the air in your home with a few simple tips and the right equipment at your disposal.

Here are five really simple things you can do to protect you and your loved ones from the harmful effects of smoke inhalation:
Keep all the windows and doors closed.
Avoid using exhaust fans in your bathroom, laundry and kitchen, because this will create negative pressure and draw in smoke from outside.
If you have an air conditioner – choose the "recycle" or "recirculate" functions to prevent the smoke from coming in.
Avoid other sources of smoke pollution in the home, like cigarettes, burning candles and wood-fired stoves.
Use an air purifier to help filter out any smoke that does make its way into my home.
It's imperative that you have an air purifier that has a medical-grade HEPA filter and a high capacity activated carbon filter.

A HEPA filter removes ultra-fine particles from the air, while tightly packed carbon granules in the activated carbon filter remove the smoke and freshen the air as it passes through the system.

With high smoke levels, it's important to operate your air purifier at the highest speed so that it clears the airborne particles and smoke vapours quickly.
The air quality in your home will improve instantaneously with the right air purifier.
This is what one of our customers in a bushfire prone area had to say about the improvement she noticed in her home once she purchased her INOVA air purifier:
"I suffer from asthma, allergies and chemical sensitivities and having an INOVA air purifier has helped me through a most difficult bushfire season that is not yet over.
In August 2018 we had a massive bushfire close to my property in NSW and for many days I had to be inside with my cats Morrison and Winston to escape the dense smoke driven by strong winds. However, my health was badly affected from smoke invading every room of my house.
After that experience I decided to buy an INOVA-E8 as being a high-quality Australian made product suitable for people with my respiratory problems. We are currently experienced more than a month of severe bushfire smoke. There were continual health warnings issued and many asthmatics in our region had to be hospitalised. At one point we were surrounded by bushfires and quite amazingly I had no repeat of asthma or sinus problems.
I recently bought an air quality monitor and when the smoke was quite thick it was reading "hazardous" in every room in my house except the room where the INOVA was.
When I walked into that room with the monitor it was so comforting to see the numbers plummet to a "good" reading. Thank you to INOVA for making a quality product that is dramatically helping my health and wellbeing."
 
Click here for information to help choose the right Air Purifier system for your household.
We hope these tips help you and your loved ones breathe more easily during this particularly active bushfire season. 
INOVA Air Purifier Models