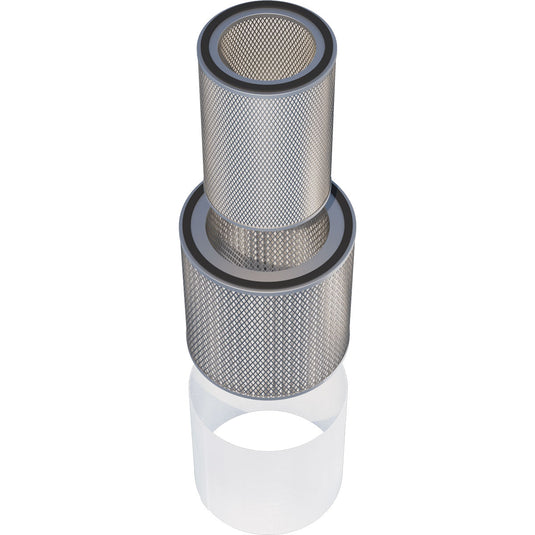 A complete filter set for your E20 or DE20 system including a pre-filter, H13 HEPA filter and 6kg activated carbon filter. 

Save $50 compared to buying all 3 filters separately.
Technostat® high-efficiency Pre-filter.
The electrostatically charged first-stage pre-filter is designed to remove ambient fine dust particles and up to 99% of bacteria & viruses from the air.
The Technostat® pre-filter in INOVA air purifiers also extends the life of the main HEPA filter up to 5 years.*
Filter Life
Up to 6 months of continuous use*
---
H13 Medical-grade HEPA Filter
The HEPA filter removes viruses, bacteria, mould spores, allergens, pollen and dust mites before passing the air on to the third-stage filter. The E20/DE20/V20/DV20 HEPA filter has a 6.4m² surface area and is certified to filter to 99.95% @ 0.3 microns - tested down to 0.003 microns at 100% efficiency*.

Filter Life
3 - 5 years of continuous use*
---
E20/DE20 6kg Activated Carbon Filter
A 6kg activated carbon final stage filter, manufactured with a heavy-duty steel casing and airtight seals.
Designed to remove chemical pollutants, volatile organic compounds (VOC's), smoke, road pollution and odours.
Filter Life
Up to 1 - 3 years of continuous use*
* Filter life will vary depending on dust & chemical concentrations present. As operating conditions vary based on levels of dust, chemicals & odours present, and system proximity to major pollution sources. INOVA does not warranty consumable filter life.