Comparing Filter Life with Other Brands.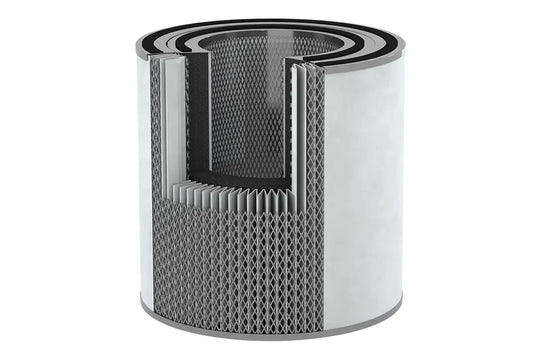 What makes INOVA different?
High Efficiency Particulate Air (HEPA) filters are the backbone of air purifiers and are crucial in removing pollutants and allergens from indoor air. INOVA air purifiers are well-known for their long-lasting HEPA filters, which provide a high level of air purification for extended periods of time. In this article, we'll explore why INOVA HEPA filters are more durable than those found in many consumer grade brands.

First and foremost, the materials used to manufacture INOVA HEPA filters are of the highest quality. Unlike many other brands, INOVA uses only the most premium materials to produce their HEPA filters. This includes H13 medical-grade HEPA paper, which is known for its ability to filter out even the smallest of particles without sacrificing efficiency. Additionally, the HEPA filters are encapsulated in an aluminum frame that provides added stability and durability. This combination of materials allows INOVA HEPA filters to withstand the rigors of continuous use, reducing the likelihood of damage and extending their overall lifespan.
Filter replacement intervals based on manufacturer documentation.
| | |
| --- | --- |
| INOVA Air Purifiers® | 3-5 Years |
| Mila® | 6 Months |
| Dyson® | 12 Months |
| Samsung® | 12 Months |
| Winix® | 12 Months |
* All product names, logos, and brands are property of their respective owners.
Another key factor that sets INOVA HEPA filters apart from those of other brands is the design of the air purifier itself. INOVA air purifiers are designed to work in harmony with the HEPA filters, providing a seamless, efficient and long-lasting filtration experience. This is achieved through a number of design features, such as a pre-filter that traps larger particles and extends the life of the HEPA filter, as well as filter endcaps that are manufactured from steel. There are only 2 sealing faces on the filter (top & base) which are sealed using Poron® gaskets to ensure no unfiltered air can pass through the system.
In contrast, consumer-grade brands found in most electrical goods stores are often designed with quick mass manufacturing and convenience in mind, rather than performance and longevity. For example, many of these models are designed to be compact and portable, which can often come at the cost of filter quality, durability and overall filter surface area.

INOVA is committed to providing their customers with a high-quality, long-lasting product that provides clean and healthy indoor air. As a result, we invest heavily in research and development, constantly looking for ways to improve our air purifiers and HEPA filters. This focus on innovation and quality sets INOVA apart from many other air purifier brands and helps to ensure that their HEPA filters last longer than those of other brands.